ATIF Aslam & ASHA Bhosle live at Sur Kshetra - Chura Liya Hai & Dilbar Mere
Watch Atif Aslam and Asha Bhosle performs Chura Liya Hai Tumne and Dilbar Mere on Sur Kshetra stage.
Dilbar Mere & Chura Liya Hai Tumne by Asha Bhosle & Atif Aslam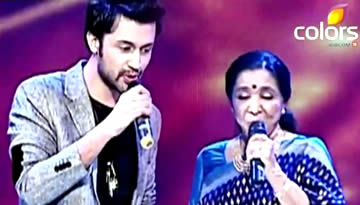 Atif Aslam sings Dilbar Mere Kab Tak Mujhe and then asks to Asha Ji to sing along with him. She sings Chura Liya Hai Tumne Jo Dil Ko and then Atif Aslam follow her with sajaunga lut kar bhi tere badan ki dali ko... It's really nice to see India-Pakistan sharing a stage.
Production Company: Saaibaba Telefilms, Sahara One
Category: Music Sur Kshetra
Tags: Asha BhosleAtif AslamLive PerformanceSur Kshetra