BESHARAM TRAILER - Ranbir Kapoor | An Abhinav Kashyap Film
Watch the super fun trailer of Besharam starring Ranbir Kapoor & Pallavi Sharda in lead, Besharam is directed by Dabangg director Abhinav Kashyap.
Besharam - An Abhinav Kashyap Film starring Ranbir Kapoor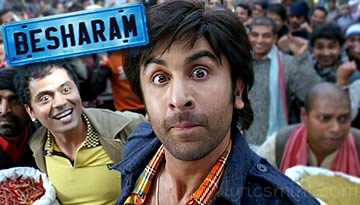 Dabangg director Abhinav Kashyap is back again and this time with Besharam Ranbir Kapoor. The trailer looks really promising and it seems the confident director is gonna repeat the history he made with Dabangg.


MOVIE PLOT: Babli (Ranbir Kapoor) is a street smart car mechanic living in a Delhi orphanage. He is charming and lives life to the fullest. He also steals cars to support his orphanage. He has no sense of right or wrong till he unwittingly hurts the love of his life, Tara (Pallavi Sharda). Babli realizes that there is no right way of doing the wrong thing. Babli sets out to fix all the wrongs in his life and he continues to be shameless about it.
Release Date: 2nd Oct 2013
Directed by Abhinav Kashyap
Produced by Himanshu Mehra, Sanjeev Gupta & Reliance Entertainment
Starring: Ranbir Kapoor, Pallavi Sharda, Rishi Kapoor & Neetu Kapoor
Story/Screenplay: Rajeev Barnwal, Abhinav Singh Kashyap
Director of Photography: Madhu Vannier
Music: Lalit Pandit
Lyrics: Rajeev Barnwal, Nikhat Khan, Himanshu Kishan Mehra
Production Company: Reliance Entertainment, Movie Temple Productions
Category: Trailer
Tags: BesharamRanbir Kapoor