Bombbay Talkies Trailer: It is a film of four different emotions love, sorrow, pain and desire directed by Karan Johar, Anurag Kashyap, Zoya Akhtar & Dibakar Banerjee.
Bombay Talkies Film - 4 Stories of Emotions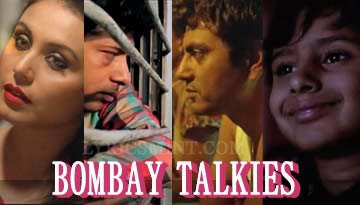 Bombay Talkies celebrates the 100 Years of Indian Cinema. The film tells four different stories directed by four different directors. The film is produced by Viacom 18.

Karan Johar's Story: This is the story of love, emotional baggage & complications. The story features Rani Mukerji, Randeep Hooda and Saqib Saleem.

Anurag Kashyap's Story: This is the story of an Amitabh Bachchan fan (played by Vineet Kumar: the guy who played Danish Khan in GoW) and his BigB's house Prateeksha.

Zoya Akhtar's Story: This is a story is of a child, which also features Katrina Kaif.

Dibakar Banerjee's Story It is about a failed actor (played by Nawazuddin Siddiqui) who also ends up feeling like a failed human being.

Ranbir Kapoor will be the narrator in film who probably will integrate all four stories as one Bombay Talkies.
Production Company: Viacom 18 Motion Pictures
Category: Trailer
Tags: Anurag KashyapCinemaKaran Johar