Chashme Baddoor Trailer - 2013
Chashme Baddoor Trailer starring Ali Zafar, Taapsee Pannu, Divyendu Sharma and Siddharth. Chashme Baddoor (2013) David Dhawan Film.
Chashme Baddoor (2013) Film - Remake of 1981 Classic Hit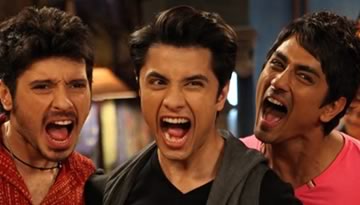 Chashme Baddoor is a remake of 1981 romantic comedy film Chashme Buddoor starring Farooq Sheikh in lead. This one is directed by David Dhawan and stars Ali Zafar, Taapsee Pannu, Divyendu Sharma, Siddharth Narayan and Rishi Kapoor.

David Dhawan (Director) + Farhad-Sajid (Dialogues) + Sajid-Wajid (Music) + Sandeep Shirodkar (Background Score)
It is the sure shot combination of super Fun Masala Entertainer. And when these guys do good work, outcome will be enjoyable as well.

From the trailer it looks David Dhawan is back with a nicer film. If this this is not too good, It is surely better than his previous films like Do Knot Disturb & Rascals.

Sonu Nigam was about to be part of the film as an actor, He was going to play the role which Divyendu is playing. But no problem Divyendu looks very good here and Sonu Nigam sang some fantastic songs in the film. His vocals made this trailer much nicer and more crazy.

The Movie releases on 5th April 2013.
Production Company: Viacom 18 Motion Pictures
Category: Trailer Chashme Baddoor - 2013
Tags: Ali ZafarChashme Baddoor