Cheen Ke Lenge Song Video - Chakravyuh
Watch Cheen Ke Lenge Apna Haq song Video from Chakravyuh featuring Abhay Deol, Anjali Patil & Manoj Bajpai.
cheenkelenge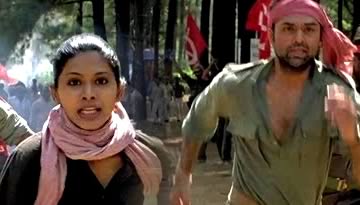 The song Puts the view point of Naxals. They says "Jungle Apna baap hai, Nadiya humri maiyya, Inko kisi ne agar chheena toh daag denge seena". means "Jungle is our father and river is our mother, if anyone try to take these from us, we will shoot him in the chest"

The song is sung by Sukhwinder Singh and composed by Salim - Sulaiman and lyrics are penned by Irshad Kamil.
Production Company: Eros International, Prakash Jha Productions
Category: Music Chakravyuh
Tags: Abhay DeolChakravyuhManoj Bajpai