DHANUSH TATA NANO SONG - TV Commercial
Watch TV commercial song of TATA Nano by Dhanush. The song TATA Nano daude yaar sadak pe is a promotional song composed by Anirudh.
Kolaveri Fame Dhanush is back with TATA Nano song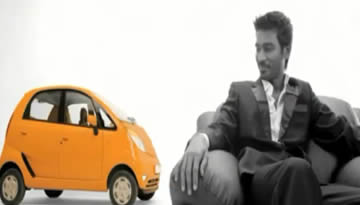 Dhanush is back with TV Commercial song which he sang for TATA Nano. The Song "TATA Nano daude yaar sadak pe" is sung by Dhanush and music is scored by his brother-in-law Anirudh Ravichander who also composed the super hit Kolaveri Di.

These days every brand is trying this new concept of "Making a Song" to Advertise their brand and products like Airtel, Haywards, Coca-Cola, Hero, Dish TV, Limca, Chevrolet and there any many more brands who are using this concept for their branding.
Production Company: TATA
Category: Music
Tags: Dhanush