EK THA TIGER NEW TRAILER - VIDEO - Salman Khan, Katrina Kaif
Second new theatrical trailer of Ek Tha Tiger is out now. So catch this fantastic Ek Tha Tiger new trailer featuring the Salman Khan and Katrina Kaif.
Ek Tha Tiger New Trailer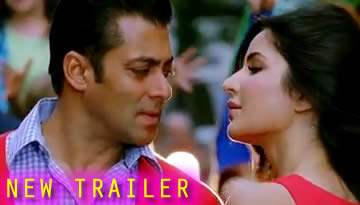 After getting the superb response on earlier 1:30 minutes' teaser trailer, YRF releases the new theatrical trailer of Ek Tha Tiger. Earlier trailer didn't feature the actress Katrina Kaif but this one does.
This trailer also shows the fun side of Tiger - Salman Khan where Salman does great job! with his typical creative one liners. It also features the many stunts scenes of Salman Khan the Tiger.
Production Company: Yash Raj Films
Category: Trailer Ek Tha Tiger - Salman Khan
Tags: Ek Tha TigerKatrina KaifSalman Khan