HIGHWAY Hindi Movie Trailer - An Imtiaz Ali Film starring Alia Bhatt, Randeep Hooda
Watch Imtiaz Ali's HIGHWAY Hindi Movie TRAILER starring Alia Bhatt & Randeep Hooda, An AR Rahman musical romance drama looks beautiful, watch the official trailer right here.
Highway - An AR Rahman Musical directed by imtiaz Ali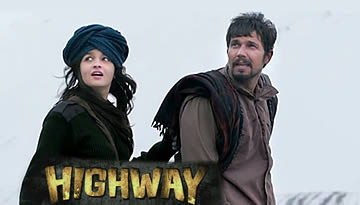 Highway is a Bollywood romance-drama film, directed by Imtiaz Ali and presented by Sajid Nadiadwala. It stars Alia Bhatt & Randeep Hooda in lead roles.
Release Date: February 21, 2014.

The trailer features some of the songs, and we think you can expect a great soundtrack album from this film, there are three main reasons for that:
First is Genius AR Rahman
Second is Irshad Kamil whose a lyrics are beautiful & poetic, and
Third is Director Imtiaz Ali's good taste for music and poetry!

AR Rahman, Irshad Kamil & Imtiaz Ali are back again after Rockstar! so guys be prepared for a great soundtrack on the way.
We would like to write down some of the lines from the trailer written by Irshad Kamil, here is a line from the song which AR Rahman sings:
Dhoop paani pe baras jaaye....... (isn't it a beautiful line/thought... )
And there is Second song probably named as Jugni or Ali
Meethe paan di gillauri
Lattha suit da Lahori
Fatte marti phillauri
Jugni mel mel ke
Kood faand ke
Chak chakhote jaave

Maula tera maali
O hariyali junglewali
Tu de har gaali pe taali
Uske kadam kadam rakhwali
Ainve lok laaj ki soch soch ke kyun hai aafat daali - great line!
Tu le naam Rab ka naam Sai ka.. Ali Ali Ali Ali...

Lyrical work by Irshad Kamil is too beautiful - truly artistic Kudos to you Kamil Saheb.

Cinematography:
The film is shot by Anil Mehta who also shot the Rockstar. This time he is doing something new by going Digital for the first time. The film is shot in a very realistic style. no polished glamour this time.
Production Company: Window Seat Films, Nadiadwala Grandson Entertainment
Category: Trailer HIGHWAY - 2014
Tags: CinemaHighwayImtiaz Ali