Review of Shirish Kunder's JOKER
Watch online review of Shirish Kunder's Joker which stars Akshay Kumar, Sonakshi Sinha and Shreyas Talpade.
Joker Hindi Movie Review 2012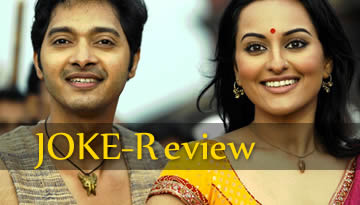 The online review of Joker by Omar Qureshi of ZoOm TV. Omar Gives Joker 1/5 star.

This is Shirish Kunder's film who directed, wrote the script, edited the film, score the background music, wrote the lyrics of the songs. As we said when trailer released, if the movie flops there will be only one person responsible for it and that will be one and only Shirish Kunder and here is the result.
Category: Reviews Joker - 2012 Hindi Movie
Tags: Akshay KumarJokerSonakshi Sinha