JOKER TRAILER: 2012 Hindi Film | Akshay kumar, Sonakshi Sinha
Joker movie trailer: Joker is Shirish Kunder's upcoming directorial film starring Akshay Kumar and Sonakshi Sinha.
Joker Trailer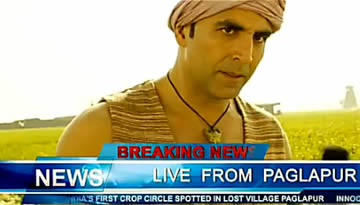 Watch Shirish Kunder's upcoming film Joker's trailer featuring Akshay Kumar and Sonakshi Sinha.

Shirish Kunder used to write many things about other people's films. Now here comes his own films' trailer He was too confident before releasing the trailer and was too positive for the response.

But nothing seems to be working for him, People are not finding this trailer interesting and it ain't clicking the audiences.
Shirish did aware audiences to not to use common sense with this quote:

"There are places on planet Earth,
where common sense doesn't apply,"
— TOBA BETA
But even without using common-sense this trailer isn't looks funny. Frankly speaking it requires certain common sense and knowledge as a prerequisite to understand this trailer. This trailer shows designs of shapes in the fields which are claimed to be related to aliens or extraterrestrial species. The character played by Akshay Kumar want to put his small village "Paglapur" on the maps so that their problems can be heard by officials. To do so he encourage villagers to make designs in fields to get media attention and thus put their village on the map.
Shirish uses his twitter like creativity in this film too
like
UFO = Udta Firta Omelette
But his twitter timeline is much funnier than this trailer. He is creative but his this trailer doesn't click.
Shirish did Writing, Directing, Editing, Background Score and Promotion on Twitter.
So It's completely Shirish Kunder's film and if it flops, Then there will be only one man behind the failure and that will be Shirish.
Hope upcoming trailers and this movie will be interesting.
Production Company: UTV Motion Pictures
Category: Trailer Joker - 2012 Hindi Movie
Tags: Akshay KumarJokerSonakshi Sinha