DIL JUMPING JAPANG - IPL 6 ad song | All dance steps by Farah Khan
IPL 6 ad song: Dil Jumping japang / dil jumping zapak - IPL 6 Farah Khan's all dance steps compilation, Enjoy this IPL 6 ad song jingle and dance.
IPL 6 Song: Jumping Japang - All Dance Steps by Farah Khan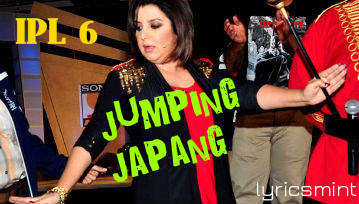 Jumping Japang from IPL 6
Singers: Vishal-Shekhar
Music: Vishal-Shekhar
Lyrics: Vishal-Shekhar
Choreography: Farah Khan

This videos contains all the Dance Steps for Six, Four, Out featuring Kapil Dev, Ajay Jadeja, Harsha Bhogle, Sameer Kochar, Gaurav Kapoor, Navjot Singh Siddhu.

Lyrics
Dil jumping japang jampak jampak
Thumping thapang thampak thampak
Gili gili yeah...

Sirf dekhne ka nahi... get up and..
Jumpag jumpag...
Category: TV Shows
Tags: CricketFarah KhanJingles