LADO MUJHE: Bilal Khan at Coke Studio 5
Bilal Khan performing Lado Mujhe at Coke Studio 5, second episode. Bilal Khan Live at Coke studio sessions.
Larho Mujhey by Bilal Khan - Coke Studio Sessions - S05E02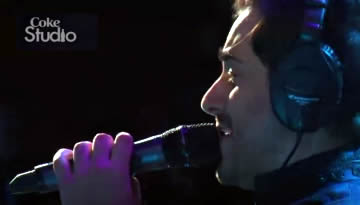 Song: Lado Mujhey
Sung by: Bilal Khan
Produced by: Rohail Hyatt
Click on Transcript to See Lyrics with Translation.
Production Company: Coke Studio
Category: Music Coke Studio Season 5
Tags: Bilal KhanCoke Studio
Transcript
0:12 Muskurata Rehta Hoon, Duniya Se Ye Kehta Hoon I keep smiling and I say to the world
0:18 Mil Jaein Ge Mujhko Khawaab Bhi I will eventually find my dream
0:23 Dil Ko Zinda Rakhta Hoon, Khushiyon Se Ye Bharta Hoon, I keep my heart alive, fill it with
0:29 Itna Tou Hai Khud Pe Yaqeen I have that much faith in myself
0:34 Urdta Hua Taara Hoon Im a flying star
0:37 Ooncha Sa Ik Na'ra Hoon I'm a loud slogan
0:40 Bujhti Hui Basti Mein Ghoomta Awaara Hoon I'm a carefree wanderer in a dying slum
0:45 Himmat Hai Tou Aey Koi, Mujhko Samjhaey Woh If someone has the courage, come and explain
0:50 Mitt Chuki Ummeedein Kyun Meri Why have my hopes been shattered?
0:55 Aao Naa, Kaho Mujhey, Aao Naa, Larho Mujhey Come on, say it to me, come on, fight me
1:06 Meray Dil Main Dekho Aag, Look at the fire in my heart
1:09 Mujh ko Dikhta Apna Khawaab, I can see my dream
1:12 Tum Ko Lagta Hoon Mein Kya, What do I look like to you?
1:14 Aao Naa Come on
1:17 Hai Duaaon Main Haath Hands are in prayers
1:20 Sar Pe Meray Bus Hai Kaam I only have work on my mind
1:22 Aao Na, Larho Mujhey Come on, Fight me
1:31 Larho Mujhey Fight me
1:39 Saaree Baatein Sun Bethaa I have heard all that has been said
1:42 Jo Kehna Tha Keh Diya I have said what I had to say
1:45 Lafzon Se Darta Tha Kabhi I was afraid of words before
1:50 Shikwa Khud Se Kuch Nahein I have no complaints with myself
1:53 Lagta Mujh Ko Sab Sahi I feel everything is alright
1:56 Itna Tou Hai Khud Pe Yaqeen I have that much faith in myself
2:01 Urdta Hua Taara Hoon Im a flying star
2:04 Ooncha Sa Ik Na'ra Hoon I'm a loud slogan
2:07 Bujhti Hui Basti Mein Ghoomta Awaara Hoon I'm a carefree wanderer in a dying slum
2:12 Himmat Hai Tou Aey Koi, Mujhko Samjhaey Woh If someone has the courage, come and explain
2:18 Mitt Chuki Ummeedein Kyun Meri Why have my hopes been shattered?
2:22 Aao Naa, Kaho Mujhey, Aao Naa, Larho Mujhey Come on, say it to me, come on, fight me
2:33 Meray Dil Main Dekho Aag, Look at the fire in my heart
2:36 Mujh ko Dikhta Apna Khawaab, I can see my dream
2:39 Tum Ko Lagta Hoon Mein Kya, What do I look like to you?
2:42 Aao Naa Come On
2:45 Hai Duaaon Main Haath Hands are in prayers
2:47 Sar Pe Meray Bus Hai Kaam I only have work on my mind
2:50 Aao Na, Larho Mujhey Come on, Fight me
2:59 Larho Mujhey Fight me
3:04 Larho Mujhey Fight me
3:15 Larho Mujhey Fight me
3:26 Larho Mujhey Fight me
3:37 Larho Mujhey Fight me
3:48 Larho Mujhey Fight me
3:59 Larho Mujhey Fight me
4:01 Meray Dil Mein Dekho Aag, Look at the fire in my heart
4:04 Mujh ko Dikhta Apna Khawaab, I can see my dream
4:06 Tum Ko Lagta Hoon Mein Kya, What do I look like to you?
4:09 Aao Naa Come on
4:12 Hai Duaaon Main Haath Hands are in prayers
4:15 Sar Pe Meray Bus Hai Kaam On my mind, there's only work
4:17 Aao Na, Larho Mujhey Come on, Fight me
4:26 Larho Mujhey Fight me
4:32 Larho Mujhey Fight me
4:46 Kaghaz Ki Kashti Mein In a paper boat
4:48 Lehron Ki Masti Mein In the mischief of the waves
4:51 Tufanon Se Ruk Na Paya Mein I could not be restrained by the storm
4:57 Phir Bhi Dil Ne Dukh Na Baantay I never burdened other with my sorrows
4:59 Phir Bhi Dil Ne Dukh Na Baantay I never burdened other with my sorrows
5:02 Hansta Khilta, Chalta Aaya Mein I arrive joyfully and playfully
5:08 Dekho Mein Banjara Hoon Look! I am like a gypsy
5:10 Marzi Ka Dhaara Hoon I flow freely
5:13 Bujhti Hui Basti Mein Ghoomta Awaara Hoon I'm a carefree wanderer in a dying slum
5:18 Himmat Hai Tou Aey Koi, Mujhko Samjhaey Woh If someone has the courage, come and explain
5:24 Mitt Chuki Ummeedein Kyun Meri Why have my hopes been shattered?
5:29 Aao Naa, Kaho Mujhey, Aao Naa, Larho Mujhey Come on, say it to me, come on, fight me
5:40 Meray Dil Mein Dekho Aag, Look at the fire in my heart
5:42 Mujh ko Dikhta Apna Khawaab, I can see my dream
5:45 Tum Ko Lagta Hoon Mein Kya, What do I look like to you?
5:48 Aao Naa Come on
5:51 Hai Duaaon Main Haath Hands are in prayers
5:53 Sar Pe Meray Bus Hai Kaam There's only work on my mind
5:56 Aao Naa Come on
5:59 Larho Mujhey Fight me
6:05 Larho Mujhey Fight me
6:10 Larho Mujhey Fight me