OH MY GOD TRAILER - Paresh Rawal (2012 - Hindi Film)
OMG! Oh My God is Grazing Goat Pictures & Viacom 18's production starring Paresh Rawal and Akshay Kumar. Watch the interesting trailer of Oh My God.
OMG Trailer - Paresh Rawal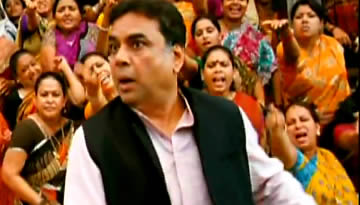 Oh My God trailer featuring Paresh Rawal as Kanji Bhai and Akshay Kumar. The trailer is narrated by Salman Khan. watch this interesting teaser trailer of OMG!
Click in Transcript button to read the narration.
Production Company: Grazing Goat Pictures
Tags: Oh My GodParesh Rawal
Transcript
1,20,60,00350 wali iss country mein ek cheez har jagah dikhai deti hai
Darr...
Lagbhag 42% log, paani se darte hain
53% Jan.ta ko bhookamp ka darr satata hai
Seventy seven yaani ke satattar partishat insaan terrorist ke khauf mein jeete hain
90% no chance, 95% peoples apni beewiyon se darte hain
Aur jis se 100% beewiyaan bhi darti hai woh hai...
who other than Bhagwan!
Ha ha ha...
Ye sab us.se darte hain, jo hai hi nahi
Main duniya ko saabit kar dikhaung ki bhagwan hai hi nahi
hatt...
Arrey arrey kanji bhai what do you saying?
Miliye inse 28 september ko, chalte hain
See yaa!