Mitti da Bawa & Ahista Aahista - Papon, Shilpa Rao Live at GiMA - 2012
Papon and Shipa Rao's duet live performance of Mitti Da Bawa and Aahista Aahista - a tribute to Jagjit Singh Ji.
Papon & Shilpa Rao's live performance at GiMA Nominees Bash Webcert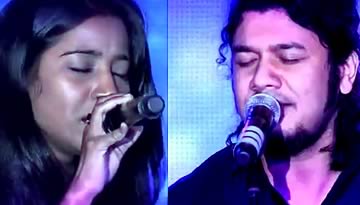 The amazing Papon and Shilpa Rao's performance on two songs fusion. Papon and Shilpa Rao comes with a beautiful fusion of Jagjit Singh Ji's Mitti Da Bawa Main Bana Liya and Aahista Aahista.

Assamese Folk Rockstar THE Papon and beautiful singer Shilpa Rao pays tribute to legendary Ghazal singer Jagjit Singh Ji in GiMA Awards Nominees Bash Webcert.
Tags: GIMALive PerformancePaponShilpa Rao