PATANG: The Kite Trailer - 2012
Watch official trailer of Patang starring Nawazuddin Siddiqui, Sugandha Garg. Patang is directed by Prashant Bhargava.
Patang Official Trailer - Featuring Nawazuddin Siddiqui, Sugandha Garg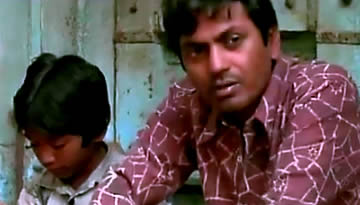 Patang Movie Plot:

When a Delhi businessman returns to his childhood home in Ahmedabad for India's largest kite festival, an entire family has to confront its own fractured past and fragile dreams. With naturalistic performances from actors and non-actors alike, bold, lyrical editing and vibrant cinematography, PATANG delights the senses and nourishes the spirit.
Patang
is directed bt
Prashant Bhargava
and Produced by
Khushi Films
. Star cast of film includes talented
Nawazuddin Siddiqui
and
Sugandha Garg
.
Music seems to be a nice, we can listen to three songs in this trailer and those all sounds great.
First we listen in this trailer is '
Udi Patang
' which is sung by
Papon
and other song "
Dhin tak dhin
" is sung by
Shilpa Rao
and lyrics of that song are written by Amitabh Bhattacharya.
Production Company: Khushi Films
Category: Trailer Patang 2012
Tags: Nawazuddin SiddiquiPatangTrailer