Satyamev Jayate Ka Safar - 15 August | Special Episode
Watch the special episode "Satyamev Jayate Ka Safar" This episode telecasts on the 65th Indian Independence day, 15 August on Star Plus.
Satyamev Jayate Ka Safar - Towards Change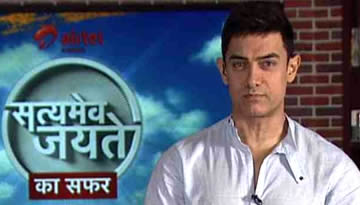 In this special episode Aamir Khan tells the journey of the Satyamev Jayate like when it started whose ideas was this and how everyone joins them in this journey. This special episode is named Satyamev Jayate ka Safar. Aamir Wanted this show to reach maximum people in India. So it is made to be telecast on Doordarshan and also dubbed in many other languages. So that everyone in India can watch.

Satyamev Jayate 14th episode: Into that heaven of freedom
Satyamev Jayate: Seeds of progress
Satyamev Jayate: Towards Change.
Production Company: Aamir Khan Productions
Category: TV Shows Satyamev Jayate
Tags: Aamir KhanSatyamev Jayate