Satyamev Jayate 2 Final Episode #5 - "Criminalization of Politics"
Satyamev Jayate 5th Episode Watch Online on Indian Politics titled "Criminalization of Politics" hosted by Aamir Khan which aired on 30th March 2014.
Satyamev Jayate 2 - Full Episode 5 Watch Online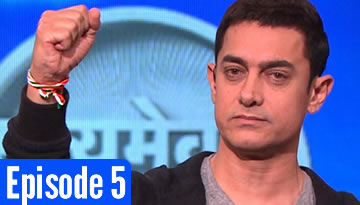 We have to change the nature of the government machinery, make it transparent, accountable and imbued with the spirit of service. Of course, this is no easy task. But we are not powerless. In the past, the right to vote has humbled the most powerful and arrogant, the most corrupt and criminal.
- Source: satyamevjayate.in
Host: Aamir Khan
Directed by: Satyajith Bhatkal
Written by: Aamir Khan, Satyajith Bhatkal
Music: Ram Sampath
Song: Bharat Bhagya Vidhata Uth
sung by Shankar Mahadevan
Production Company: Aamir Khan Productions
Category: TV Shows Satyamev Jayate
Tags: Aamir KhanSatyamev Jayate