ATIF ASLAM vs SONU NIGAM - Chura Liya Hai Tumne
Atif Aslam vs Sonu Nigam live performance of Chura Liya Hai tumne, at Sur Kshetra and Chhote Ustaad Watch n decide who is better singer.
Sonu Nigam vs Atif Aslam - Live Performance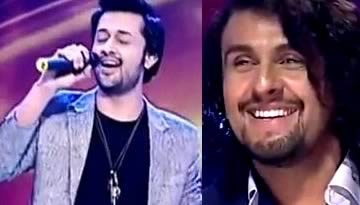 Atif Aslam vs Sonu Nigam - Who is better singer?
We know they are not performing to be compared to each other. and in reality there is no comparison between them. But if you wants to know who sings better, then watch this live performance of classic hit - Chura liya hai tumne and Find who sings better.
Who do you think sings better, and who do like more?

Resources:
Atif Aslam is live performance at Sur Kshetra
and Sonu Nigam's live performance at Chhote Ustaad.
Category: Music Sur Kshetra
Tags: Atif AslamLive PerformanceSonu NigamSur Kshetra