SPECIAL 26 TRAILER | Akshay Kumar, Manoj Bajpai
Watch Special 26 Trailer starring Akshay Kumar, Manoj Bajpai and Anupam Kher. Special Chabbis is a Neeraj Pandey Film.
Special Chabbis Movie Trailer - A Neeraj Pandey Film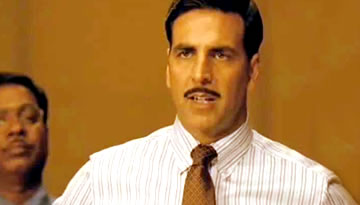 Special Chabbis (26) is a film based on ture incidents, written and directed by Neeraj Pandey who did the debut with a superbly directed film A Wednesday. That was a low budget film which was not having any stars in it.

Our Bollywood has a parallel cinema, where some nice films are being made. But those film don't earn much money. But this time what Neeraj Pandey is going to do is: Make a good film and have a star who can attract the audience. We Hope this would be a good film, and earn good money as well.

Neeraj repeated some of his actors from his last film like Anupam Kher and Jimmy Sheirgill. Neeraj is an amazing talent our film industry has.

Music of this film is composed by National Award Winning music director MM Kreem and also has Himesh Reshammiya as Guest composer.

FKAE is REAL..... REAL is FAKE...

Some dialogues from Special 26:

Asli power na dil mein hoti hai....
Life mein naa bhenchod kabhi kisi se darna mat

Special 26 Release Date: 8th February 2013
Star Cast: Akshay Kumar, Kajal Aggarwal, Manoj Bajpayee, Anupam Kher, Jimmy Sheirgill
Production Company: Viacom 18 Motion Pictures, Wide Frames Films, A Friday Filmworks
Category: Trailer
Tags: Akshay KumarManoj BajpaiSpecial 26
Transcript
Aaj rajasthan ke mantri Pramod Lal Nagar ke ghar pe CBI ka chhapa pada hai
Nakli chhape ki ek aur dussahasik me
Hyderabad ke udyogpati aur MP Doctor DSR Reddy ke ghar electronic samagri sona aur Mercedes gadi lekar farar ho gaya
Ye sab nikli giroh ke karnamo ka seedha parinaam dikhta hai
Jiske desh bahr meni chalaye jaali abhiyano aur loot se kuch vargo me bhay ka mahol bana hua hai
[BASED ON TRUE INCIDENTS]
Tughlak road police station..
Hello..
Jay Hind...
Jai Hind...
CBI ward 16 se Ajay Singh bol raha hoon dekhiye
Humein kuch log chahiye raid dalni hai
[IN THE LATE 1980s
RAIDS WERE CONDUCTED
ALL OVER INDIA
BY THE MOST FEARED AGENCY]
Mantri ji hum CBI se aaye hain
Toh kya munh utha ke andar chala aaye.....(SLAPS)
Chalo sab log Andar chalo.. Phone rakho
Mantri ji ki tankhwah
Ek baat hamesha yaad rakhna Ranveer Singh
Asli Power dil mein hoti hai
[BUT THE TRUTH IS]
Asli power dil mein hoti hai
arey main kya karta yaar...
Mujhe toh kuch samajh mein nahi aa raha tha
Meri to yaar phati padi thi
[FKAE is REAL..... REAL is FAKE...]
Hum CBI se hain.. Asli wale
[FKAE is REAL..... REAL is FAKE...]
Chutiya bana gaye aapko Ranbeer saab
Jee..
Madras, Nagpur, Thiruvananthapuram, Lucknow
Sir ye to poore desh mei hai
Pichle do saal me aise 13 cases aa chuke hain
Yeh toh wo hain jo detect ho gaye
Ye shayad ex-CBI ke log hain
Ye jyadatar Politicians aur Businessmen par target karte hain
Unki dhulai bhi karte hain
Aur chunki Black Money bhi involved hai isliye koi report nahi karna chahta
Let's make this bastard nervous
Sharma Ji aap kaha karte thay na kuch bada kar phir retire hote hain
Phone Tape karo inka
kuch socha tune
kahaan pe?
Bombay
Kal subah ki flight se hum teeno ki tickets book karo
Itne log chahiye kyun?
Kaam bada hai
CBI means You love country about everything else
CBI means that you are the best
I am the best.... I am the best....
Kaun ho aap
Life mein Bhenchod kabhi kisi darna mat
Ajju hamesh kehta tha ki woh aadmi paida hi nahi hua jo usey pakad sake
Aap hain Special Chabbis.
Ek baat yaad rakhna tum... Asli power dil mein hoti hai!