Rewind YouTube Style 2012 - Top 10 Trending Videos (India)
Top 10 Trending Video songs in India Watch Rewind Youtube style video featuring PSY and other artist. Watch Top hit songs of 2012.
Top 10 Trending Videos (India) - 2012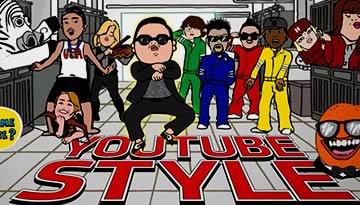 Youtube invited the artists and made this Mashup video which is mashup of top hit songs of this year, This video includes songs like Oppa Gangnam Style, Call Me Maybe etc. This special Youtube video features various artists like: PSY, Walk off the Earth, AlphaCat, KassemG, DailyGrace, MysteryGuitarMan, DaveDays and more.

Official Top 10 Trending Videos (India) by Youtube: This is the official list created by Youtube which got most hits from India. Check Here for the list.


Brown Rang - Honey Singh
PSY - Gangnam Style


This list contains two songs by Honey Singh, two videos from JTHJ. It's strange to see that except one video all the videos are songs videos.
Category: Music
Tags: Remix